James R. Brigham Jr.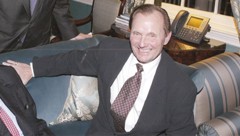 Jim Brigham is Chairman of Warson Capital Partners. He leads our healthcare services and life sciences practices, and is a member of our investment committee. Jim brings many years of experience in private equity to Warson. He is also an Advisory Director to Healthpoint Capital of New York, a value driven, research-based private equity firm exclusively focused on the orthopedic and dental device markets, where he served as Director of the firm for five years. Jim is a director of Vertebral Technologies, Inc., Minnetonka, Minnesota, and of Cernium, Inc., Reston, Virginia.
Jim has over 30 years experience in finance, investments and entrepreneurial management. From 1983 to 2001, he served as President and CEO of Diagraph Corporation, a manufacturer of industrial bar coding and product identification systems, which he sold in 2001 to Illinois Tool Works. He served as Chairman of the New York City Public Development Corporation from 1981 to 1985, and Budget Director of the City of New York from 1978 to 1981. Mr. Brigham began his career with J.P. Morgan & Company in mergers and acquisitions from 1969 to 1978. He received his Bachelor of Arts degree from Duke University and a Master of Business Administration from the University of Chicago.